Challenged with a request from an old friend, we just wrapped up a design project without ever seeing or visiting it. Our extensive library of fabrics, wallpapers and carpets was off limits. There was to be no hunting and foraging for antiques and artwork, and no installations. Without the input of an architect or builder, we provided all of the specifications of the size and finishes, and best of all…LOCATION of said project.  You have probably guessed it ~ this a virtual room ~ completely invented in my design fantasy world.  Anne Tollett of Hanover Avenue has  launched a new business that offers a design service to clients with the need for a design aesthetic and help from a professional on developing it. She can pull together a room for clients in any location and all of the interior products are available from retail or online vendors. With the help of a few amazingly creative and technological whizzes, she does all of this remotely from her computer.  On a very hot and humid August day in Virginia, we selected a humidity-free, oceanfront room in Malibu for the location of our project.  Free from any architectural plans or limitations we indulged in creating a luxuriously expansive space ~ our room footprint is 20′ wide x 35′ long with 12′ ceilings, polished concrete floors and ceilings, bleached pecky cypress paneling and a wall of floor-to-ceiling steel doors. The wood paneling serves to warm up the concrete and the steel doors are softened with gauzy linen curtains.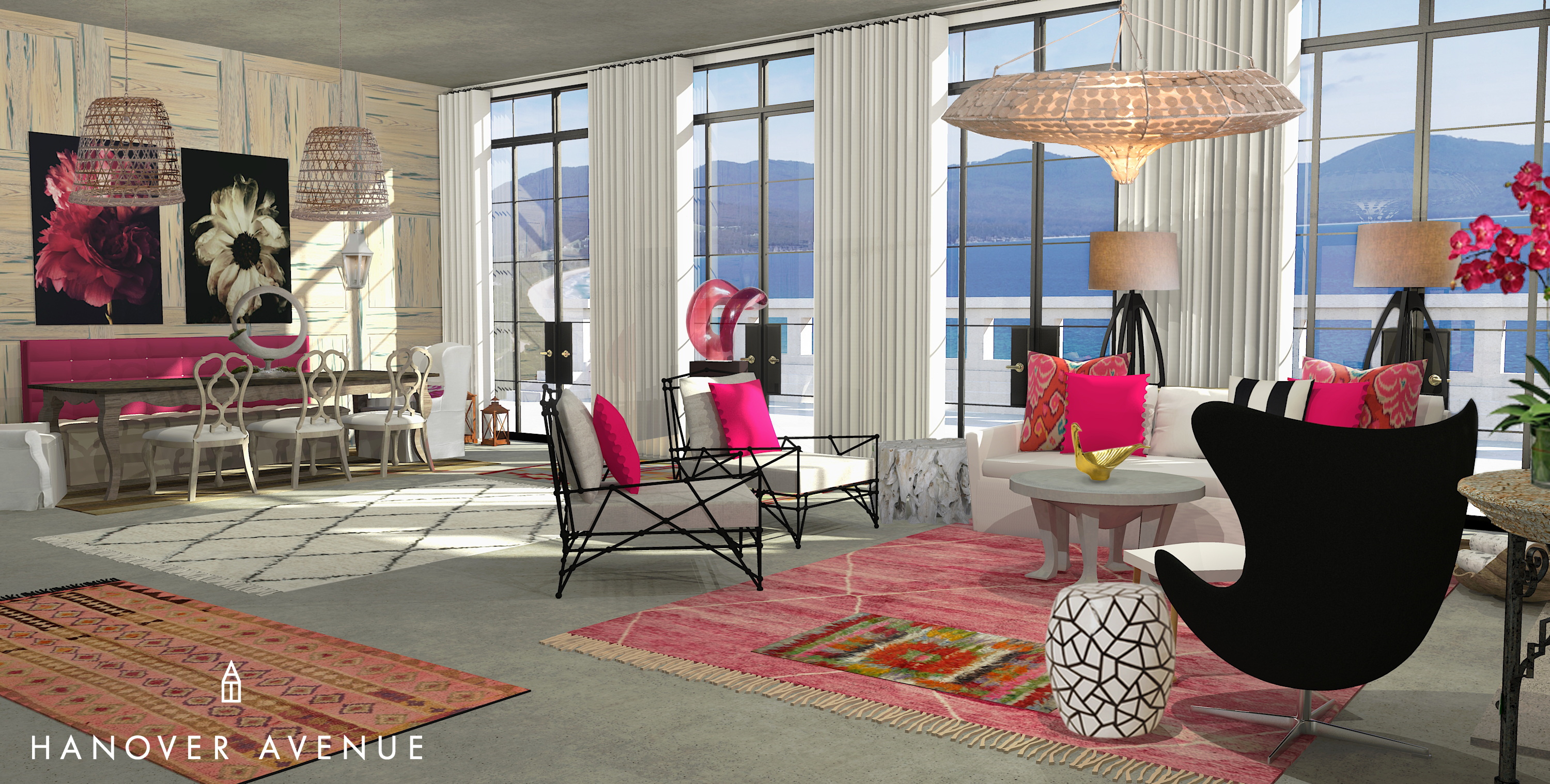 Rooms that offer multi-purposing are my favorites and this room doubles as a living/dining space.  Using a broad range of online websites, our shopping sources (all listed on the Hanover Avenue website) are as diverse as the MOMA Museum Store (black Arne Jacobsen egg chair) to Ikea (striped pillow).  Experiencing design when decorating for just me, without a budget (remember this is a fantasy),  and with instant gratification (one click and transaction complete), I remembered why I love design (and internet shopping).
Using a few of my go-to design credos, this room is a blend of high and low and multiple periods and styles.  While the dining table and side chairs have historic references, the iron chairs and driftwood side table offer  both contemporary and whimsical elements.  Keeping the larger upholstery fabrics in solids, scaling up the size on all lighting, and the layering and mixing of area rugs are further personal favs.  I spotted the vintage pink lucite sculpture at the 1st Dibs showroom in New York this summer and remarked that if I could have anything in the showroom, this would be the thing that would be mine.  In this fantasy (and for two more weeks on the Hanover Avenue website) it is mine.
to view  more of this project and video interview with Anne Tollett:
https://www.hanoveravenue.com/room-story/janie-molster-living-room/#